During the course of Movement 12's initial two-year period we will curate four 3-day workshops with international dance artists. We will also curate two 5 – 6 day Summer Schools. The workshops will enable people to work more intensively with some major figures in the development of dance.
SUMMER 2008
Atsushi Takenouchi

and

Hiroko Komiya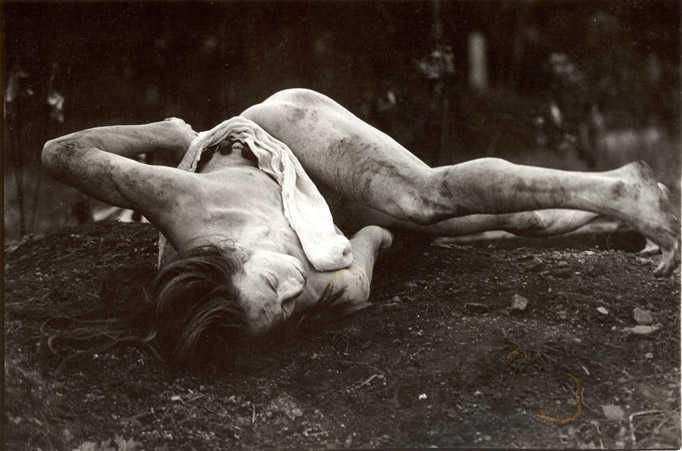 3-Day Intensive Workshop
Curated by Virginia Farman

Friday 9th, Saturday 10th and Sunday 11th May
10.30am - 5.30pm
Cost £80
at Falmer Village Hall, Falmer, Nr. Brighton,
and Burt Woods, Park Lane, Laughton, Near Lewes.

Butoh is an improvised movement form originating from post-war Japan, described as " the dance of the dark soul" it employs imagery from nature, life, death and the human psychi to inspire a unique, individual dance, drawn from the inner core of the dancer.
The work is physically and emotionally demanding and creative.

It will be set to live musical accompaniment throughout and on this workshop partcipants will spend a day dancing in an area of outstanding natural beauty in an ancient woodland in Sussex.

Atsushi has been performing Butoh for 30 years and together with Hiroko has been teaching and performing in Europe for the last 7 years. in 2008 they performed at the Venice Biennale.
Originally from Kyoto , Japan, Atsushi is a student of Tasumi Hijikata, his work features in the writing on Butoh by Sandra Farleigh.

To book, please send a cheque as a deposit for £40 made out to Moving Brighton and Hove to:

Movement 12, 104 Upper North Street, Brighton, BN1 3FJ
For more information, email movementtwelve@yahoo.co.uk
or call Charlie Morrissey on 07786 061 200
Click here for a map to Falmer Village Hall.
You can drive or take a train to Falmer and walk to the village hall.
Click here for a map to Burt Woods on Park Lane in Laughton near Lewes.

Past Workshops...
The Poetry of Motion
Kirstie Simson (UK) and Christian Burns (USA)
Curated by Charlie Morrissey.
At The Dance Studio, University of Brighton, Grand Parade, Brighton.
19th – Fri 21st December 2007

Improvisation and Partnering Skills
"One of the legends of British Dance and one of the greatest exponents of Contact Improvisation."
Time Out Magazine on Kirstie Simson
Kirstie and Christian will give classes in dance improvisation, drawing from their knowledge of contact improvisation, dance techniques, the Japanese martial art form of Aikido and their extensive experience of improvisation in performance.
Their focus will be on exploring uninhibitedly the huge potential of the body's response to the primal urge to move, inspired by deep energies released through human
Interaction, physical challenge and through the excitement of discovering new territory, new sensations and a daring to go beyond inherent ideas of limitation.
The classes will be built on very simple physical principles allowing students to explore their experience of moving and to understand their own bodies more profoundly, which is often experienced as joyful and liberating.
Christian and Kirstie will be focusing on various aspects and techniques for freeing up the body - allowing it to move with greater ease and grace. They have both spent many years researching ways of moving, which generate full and fearless dancing, and both enjoy the challenges of intense physicality. They will be sharing their discoveries with students. The classes offer dancers a way in which they can extend and deepen their experience of moving.
Kirstie Simson
Kirstie has been a continuous explosion in the contemporary dance scene, bringing audiences into contact with the vitality of pure creation in moment after moment of virtuoso improvisation. Called "a force of nature" by the New York Times, she is an award-winning dancer and teacher who has "immeasurably enriched and expanded the boundaries of New Dance" according to Time Out Magazine, London. Simson's eternal subject is freedom, as she dares to go beyond the boundaries of form and structure to create movement out of the rhythm of life itself.
Christian Burns
Christian has performed, taught and choreographed as an independent artist for various dance companies, schools and art centers around the United States, Europe and Asia. His choreographic and dance-video work has received several awards, grants, artist fellowships and artists-in-residencies and he is the co-founder of The Foundry, an interdisciplinary dance company based in San Francisco. Christian was recently a guest artist with The Forsythe Company for the creation of Equivalence, which premiered in Dresden Germany. Christian currently resides in Holyoke Massachusetts where he and his collaborators are renovating the nineteenth century Parsons Hall, into a live work and a dance residency facility.

http://www.christianburns.org/
http://www.foundryprojects.org/

Choreovideo Laboratory

Lisa Nelson(USA).

Curated by Becky Edmunds
at The Nightingale Theatre, Brighton.
3rd, 4th and 5th November 2007.

Exploring the dialogue between moving and seeing.
This workshop is suitable for screen dance artists, and dance artists with a particular interest in Lisa's work.
With hands-on work with the mobile camera, we will focus on the process of in-camera editing, generating spontaneous and complete compositions.
The workshop is preparation for any application of video to dance to video.
Emphasis will be placed on developing a spontaneous response and flexible attitude toward seeing movement, and evolving camera and editing techniques that complement, augment, and/or reflect the way we move through our world.
Lisa Nelson has been exploring the role of the senses in the performance of movement since the 70s.
Best known for her work as an improvisational performer and choreographer, and developer of Tuning Scores, she has been extending her inquiry into the video medium for many years, creating and teaching a two-year course of study in video and dance at Bennington College, U.S.A.
She teaches and performs across the U.S and abroad and continues a longstanding collaboration with dancer Steve Paxton.
She is director of Videoda, an archival, production, and distribution project for videotapes of improvised dance performance worldwide, and since 1977, has co-edited Contact Quarterly, an international dance and improvisation journal. She lives in Vermont.