Intensive Butoh workshop in nature Greece
with Atsushi Takenouchi

"dancing the circle of day"
29 August - 3 September 2007
South-West Peloponnese (next to the sea)

gJinen Butoh is to join together with all the life that are already dancing, to dance with the flow of the universe that is Jinen. We remove the wall of consciousness that perceives dance as the individual " I " dancing. We are dancing with, and are danced by , the Jinen, accepting all the environment and conditions around us as Jinen.h
JINEN Butoh training Atsushi Takenouchi
The subject of the seminar is gDancing the cicle of dayh, dancing in sunrise, sunset, fullmoon....
The seminar is taking place at the seaside and in the forest of the camping.
Meeting the nature of southwest Peloponnesus we shall explore the connection between the body and nature and shall discover how body movement rises and transforms into dance.
Within these 6 days we shall work with elements such as: Bodyfs gravity in relation to movement and balance, the transmission from internal to external state, invisible and visible, conscious and unconscious movement, a dialogue between the body and the environment using improvisation along with Butohfs basic techniques.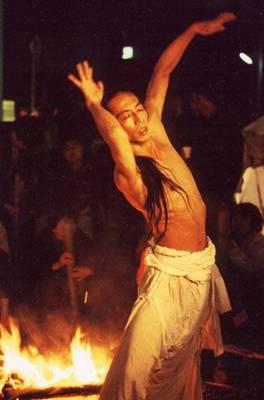 Photo by Yayoi Ogata
Live music by Hiroko Komiya will accompany the workshop (percussion, natural material sounds, voice)
"Dance is devotion of life"

I learned this while my travelling nature fields called JINEN. This has never changed since old times and will never change. This means I should dance to gmy lifeh, to the moment, and to now which lasts forever.@
@Ifve got my body from the earth. Ifve got my life from the sun and the moon, my parents, my friends and my love. Then Ifll return the gifts to these universe. Ifll return them to others through dancing body and soul. As I see a tiny flower selflessly, I meet a dance filled with a joy of g lifeh. @And then, my body is filled up with water of g lifeh. The seeds of memory inside of myself come into bud.
@The sound of winds is the whispering of the earth.@The sound of minerals is the muttering of machines. We hear the sounds of the universe through explosion and noise and stillness.
Oh, thousands of sounds, take our souls far away to our unknown world. Travel with reminding us of forgotten dances. On the sun and the moon, there are young men singing eternal songs at every place in the world. Letfs begin an ancient and modern fete at grelics of lifeh holding artificial and nature on earth.
Atsushi Takenouchi Profile
Atsushi Takenouchi joined Butoh dance company "Hoppo-Butoh-ha" in Hokkaido in 1980. His last performance with the company "Takazashiki"(1984) was worked on by Butoh-founder Tatsumi Hijikata. He has been working on his own Jinen Butoh since 1986 and created solos "Tanagokoro", "Ginkan", "Itteki" as a universal expression of nature, earth, and ancient times and his impressions of the moment, formulated from the people around him, and the environment. He toured Japan between 1996 and 1999. He also studied a spirit of the universe under Kazuo Ohno and Yoshito Ohno.@In 1999 he toured Jinen Butoh "Sun & Moon" and led Butoh workshops in Europe and Asia for six months. Since autumn 2002 he has been mainly based in Europe for one year arts fellowship funded by a Japanese government.@And he has been working on Butoh dance collaboration project with dancers and actors in France, Poland and other countries. 2005 July, he will present his solo performance gStoneh in Avignon festival (France), and choreograph a Butoh procession with 30 dancers through Avignon city in the festival.
The seminar addresses to dancers, actors, performers and to people who love body and movement.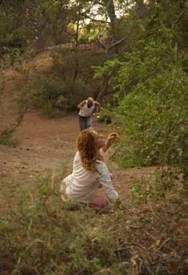 Photo by Stathis Cataropoulos (workshop 2006)
CAMPING gAPOLLO VILLAGEh Giannitsohori, Hlia, Peloponnese; tel: +30-26250 - 61200, 61575,
Fax: +3026250-61200

Space morphology: Flat ground, roads covered with pebbles. Tentsf spaces: with ground, grass and sand.
Nature: Poplar, olive and pine trees shade the area. Big pine trees are also along the beach..
Other elements: The buildings maintain a traditional character.
Beach: Sandy with sand hills, 200 mtrs width and 30 kilometers long.
How to arrive
By Car : By the national road Athens-Kalamata 35 kilometers after Megalopoli take the right turn to Kyparissia. Arriving at Kalo Nero tgake the right trun to Pyrgos and at 11 kilometers you will reach Giannitsohori the camping location.
By Train: From Athens via Peloponnese Train Terminal to kalamata , to Giannitsochori Rail Station.
In case the Express Rail connection is used to reach Giannitsochori then the Rail station is Zacharo or Tholo.
Info: http://www.osenet.gr/
By Bus : From Athens via Kifissos Bus Terminal with destinationto Kiparissia (bus station Giannitsochori). Info: http://www.ktel.gr/
From Patras port there is Bus and Train connection to Kalamata reaching Giannitsohori Hlias, as above.
Note: In case you choose to reach Giannitsochori by national transport means please advise us accordingly in order arrangments to pick you up to be made.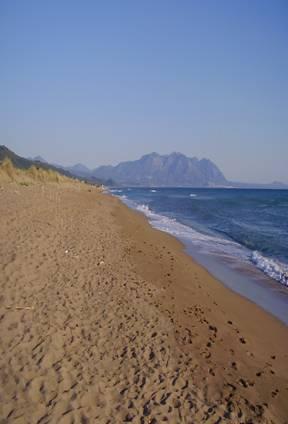 Photo by Kostas Agrogiannis
Check this site for a detailed map: http://www.eurocampings.co.uk/en/
Important note: In case you do not have a tent please contac us.
CONTACT & BOOKING
Emilia Bouriti, tel. +30 6938707706
Nelli Poulopoulou, tel. +30 6973212650
Marina Sigala, tel. +30 6973894249
Mail: syn_ergasia@yahoo.gr
Workshop Organized by "Syn+Ergasia", Emilia Bouriti , Nelli Poulopoulou, Marina Sigala