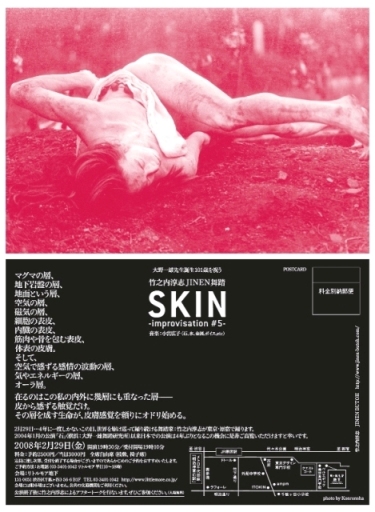 《A homage to 101 years old master butoh dancer Kazuo Ohno》


Atsushi Takenouchi JINEN Butoh sol performance

SKIN - improvisation #5-

February 29th(Fri) 7:30pm

Butoh Dance :
Atsushi TAKENOUCHI

Live music : Hiroko Komiya.......voice and object sound;
stone, water, metal ball, etc

Does my skin separate me from the external world ?
Magma, underground bedrock, surface soil,
the atmosphere, the magnetosphere - the layers of the earth.

Membrane of cells, internal organs, muscles, bones, and the body…
a wave of emotion, a layer of energy… aura - the inner and outer layer of our body.
Perhaps there is no boundary between me and my environment.
There is only the sensation from the many layers of skin.

The life of the moment, the dance begins with this layered sensation.


Atsushi Takenouchi




皮が私と外界を分けているのか?
地球にもマグマ、地下岩盤、この地面、そしてその上に空気の層、磁気の層がある。
体にも細胞の皮、内臓の皮、筋肉や骨の皮、そしてこの体表の皮、
そして,この皮膚の上にも層があるのかもしれない....。
それは、空気で感ずる感情の波動、気やエネルギーの層、オーラの層。

この私の皮膚の内側が私の体で、
皮膚から外が外界などという分け隔ては無いのかもしれない.......。
あるのはこの私の皮膚のみならず
その内側外側に幾層にも重なった層(皮)から感ずる感覚だけ。

その場に置かれた生命が、皮の感覚を頼りに踊り始める。

竹之内 淳志







performance gallery LITTLEMORE CHIKA
151-0051 3-56-6 Sendagaya,Shibuya-ku, Tokyo Japan
telephone +81-3-3401-1042 or +81-3-5474-9588
facsimile +81-3401-1052
http://www.littlemore.co.jp
http://www.littlemore.co.jp/chika/chika-map.html