2008 Atsushi Takenouchi Nature-side JINEN Butoh Workshop
in Yaku Island / Japan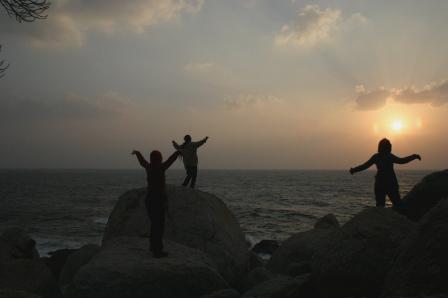 photo office MANATSU

Butoh workshop Running through inside body of Yaku Island

We will run through the body of island and while doing so we will imagine ourselves entering its body - spine, organs, limbs - and we will dance in its womb.
"Womb entering" is a ritual of rebirth remaining from the old times : By returning to Earth's womb people celebrate their coming back to Life as
Earth's children and feel themselves a part of Nature.
In our daily life, we use to distinguish inside from outside. IN is my body, it is mine, OUT is neither me nor mine.But is that so? When wind comes
into the body, it stirs it to dance. In the grip of cold, the body shrinks but it dilates in sunshine. That means that out(side) is connected to
in(side) all the time. Since there is inside, there is outside and vice versa.
But when we look far in the distance, the borderline between inside and outside fades away and all things begin to dance a Life Dance in the midst
of the Time Cycle.
What may our dance, our butoh mean then? Perhaps a meditation on/in motion during which all changes occurring in Nature are experienced as parts
of our own bodies. In dancing we may become trees enduring snow in Winter, beasts chasing their prey, even flowers endlessly blooming or else
impassive stones...
Dance springs from inside the body and connects to all and everything around you.
While circling through Yakushima - its womb, lungs, brain, stomach, veins, spine, fingertips - you will become aware of mountains, forests,
murmuring streams, waterfalls, shores and all seasons existing inside your own body. In turn your inner mountains, forests and so on will dance,
echoing in the womb of the island.
While running at the same time through the body of island and yourself, you will dance and experience directly the connexion which links the two of you.

Atsushi Takenouchi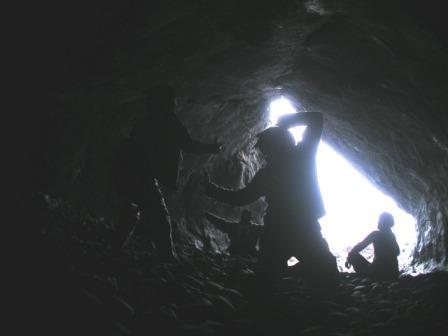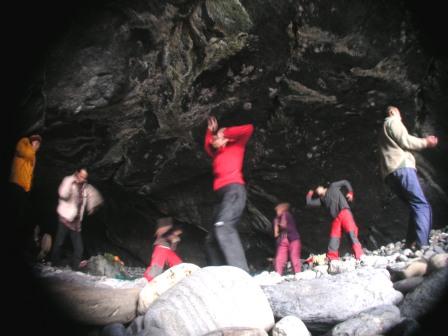 photo office MANATSU

*********************************************************


Dates:
The meeting is at noon time on Feb 19th, and workshop starts from 2pm.
On the last day 23rd, workshop finish around Sunset time, and there will be Atsushi solo butoh performance in the night.




The Workshop

:

During this term, we will dance in the natural environment of this Yaku island inSouth Japan. We will meet and explore our inner body with dancing with the ancient cedar trees forest, rivers, waterfalls, sea waves, forest animals, insects, stars and fire through Butoh movements. Atsushi leads this workshop with an emphasis on individual movement and counsciousness. The workshop demonstrates simple and primitive ways of communication exploring transformitive states of the body. Atsushi teaches participants how to connect to their organic history, guiding participants through genetic memories and the dance of the amoeba, of the wind, of the tree, of the animal, of the stone etc. His teaching start with the breath and first movements of life, and leads to universal interconnected awareness by focusing on dancing in the now, at your threshold. There will be morning and afternoon classes, improvisation sessions and exploration in the nature of Yaku island. Inside(in case of rain) and
outsite : at the beach, forests, mountain side, river, waterfalls, etc. There will be live music ( natural material sound and percussion, voice, etc. ) accompaniment by Hiroko Komiya during workshop. The last day, each perticipants will make short solo improvisation in nature.



Maximum enrollment

:

15



Application Deadline

: February 1, 2008



Participation Fee

:
56,000 Japanese yen
(including 5nights accommodation from 19th night till 24th morning, with breakfirst and dinners; from 19th dinner till 24th breakfirst.)
* Please note, lunch and transportation to and from Yakushima are not included.
* Please contact to organizer if you want to extend accomodation.



Accommodation:


Pension Ten-Nen Mura (organic farming pension) : Takahira, Yakushima Tel: 0997-47-2541


Contact & Reservation
Email: yaku@office-manatsu.com
Fax: +81 (0)997-47-2397
Mail: Nature Guide Office Manatsu Ltd.
Koidomari, Kojima, Yaku-cho, Kumage-gun, Kagoshima, Japan 889-4405
Tel : +81 (0)997-47-2397
URL http://www.office-manatsu.com

Preparation
Please be ready to dance and work outdoor, and cold temperature, we may have wind, and rain depends on the weather. Better to bring the rain jacket, and sweater, strong shoes or sneakers for dancing in the nature.

General informaiton
Yaku Island, lying on the sea to the south Point in the southern part of Kagoshima, is, because of its abundant nature, designated as a world heritage natural property for the first time in Japan. Seventy-five percent of the whole area of the island is mountainous. With Mt. Miyano-ura-dake, the tallest in Kyushu, in the middle surrounded by lots of mountains more than 1,500 meters high, the island is also called the Alps on the ocean. Going up from around the coast to the mountaintop, with the height increases, the climate changes from that of a subtropical zone to that of a sub-arctic zone, and the plant systems change in the same way, as if nature in the Japanese Archipelago were condensed. With much rainfall throughout the year, the island is covered with deep green forests, including more than 1,000-year-old Yaku cedars, and produces a mysterious atmosphere. There are beautiful gorges and primeval forests, Yaku Cedar woods, and beach.

Getting there : Kagoshima Airport is 1 hour 40 minutes from Tokyo Haneda Airport, and 1 hour 10 minutes from Osaka Itami Airport. Yaku-shima Airport is 40 minutes from Kagoshima Airport. Yaku-shima Nishino-ura Port is 2 hours 40 minutes from Kagoshima-hon-ko Port by the Kagoshima- Shosen jetfoil.