2009 January
Atsushi Takenouchi JINEN Butoh group Spectacle
"SOU-MA-TOH 走馬灯" - Lanterne magique-
Wednesday21rd, Thursday22th, January 2009
At ESPACE CULTUREL BERTIN POIREE in Paris


Conception and choreography : Atsushi TAKENOUCHI
Butoh dance:Atsushi Takenouchi & Wind earth(workshop) groupe

Music : Hiroko KOMIYA : voice and objets sonores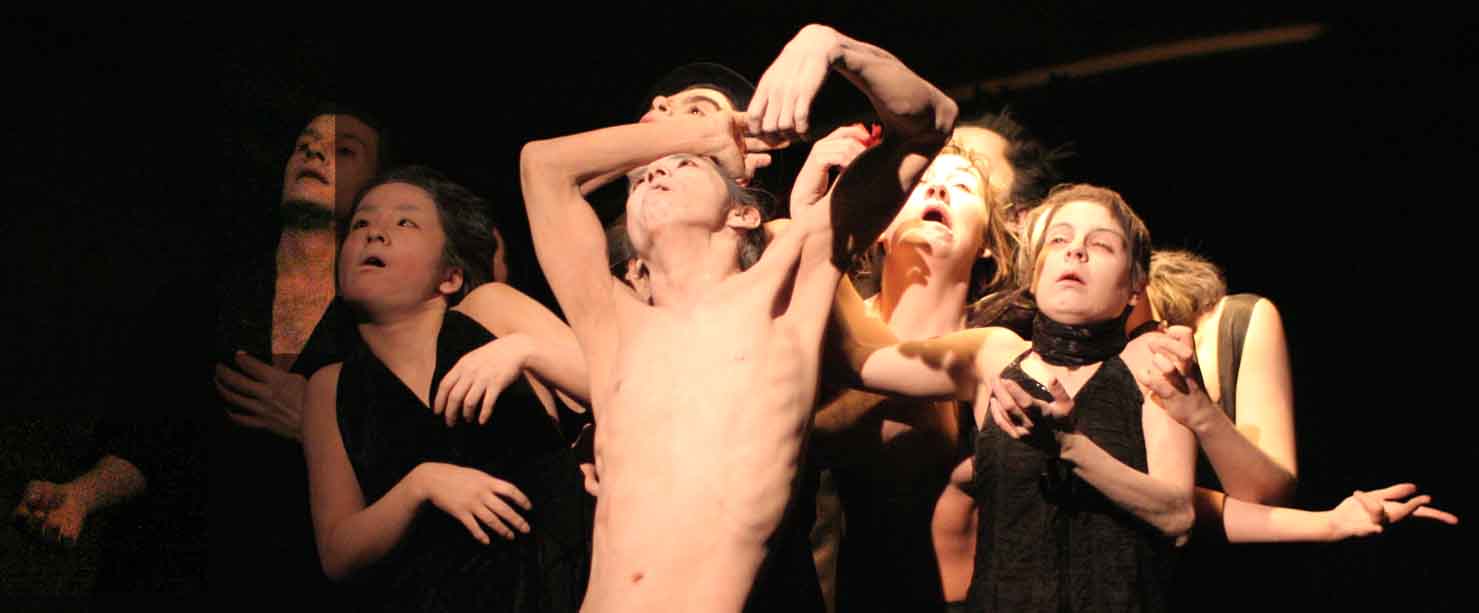 Photo from "Life and Death, Mandala of Transmigration"2007 by George Karam


English & French & Japnease
"SOU-MA-TOH 走馬灯"------English
In the age of eight I have fallen from a roof and have sensed death
for a moment. Before I fell, all memorable moments of my life so far,
I have recalled. Flashback of life- the most colourful silhouettes, revolving, flickering whilst dancing around candlelight.
This is what Japanese call sōmatō lantern.
In comparison to a life of a star, life of a human and everything else living on Earth is a glimpse of an eye, and resembles sōmatō lantern.
I see a vision. Everybody is sōmatō lantern, and has one's life is congealed into silhouette. When the sōmatō lantern is lit, those silhouette starts, just like stars on night skies, blinking and dancing.
Yet, there are lives in this world, forgotten and put into darkness, whose lanterns cannot be lit.
For example, these are abandoned children and elderly people, people hurt at the battlefields of war who can just pray, people of revolution crying for freedom, soldiers gone mad from carnage and drugs, relegated aborigines dying out, people isolated because of their diseases, loved and then dumped female and male prostitutes, actors and beggars gone mad, living beings and forests and their spirits, vanishing because of flame bombs and environment devastation, vanishing gods of mountains and seas, ancient dance.
Lets lit sōmatō lanterns of those dying lives and spirits put into darkness. Lets lit also the lanterns of memories put into darkness inside ourselves. Free them from idea of darkness, seize as uncovered, true manifestation of life, dance until the light appears. By doing so, they sōmatō lanterns will alight.
This dance is a requiem for those lives sealed in darkness.
Look at night skies. Also stars are sōmatō traveling in Space.
A life of a star is a blink of an eye compared to the time of Universe.
Our lives are also sōmatō lanterns for a blink of an eye, until we die.
Look! Innumerable sōmatō lanterns start to dance in the skies…
Atsushi Takenouchi
Sōmatō ("running horse lantern") is a traditional Japanese lantern, consisting of two drum- like frames made of paper or cloth put into one another. There is a windmill (using towering air produced by candle in the center of the lantern), mounted on the top of inner frame (on which silhouettes are mounted), that make frame revolve, producing moving shadows on the outer frame.

"SOU-MA-TOH 走馬灯"- Lanterne magique- ------French
A l'âge de huit ans, je suis tombé d'un toit et j'ai failli mourir.
juste à l'instant précédent ma chute, tous les moments marquants de mon existence me sont revenus en mémoire. Flashback d'images d'une intensité extrême, visions défilant en tournant à la flamme d'une bougie... SOMATO...Lanterne magique !!!
Comparée aux étoiles, la vie de l'homme et de toutes les créatures sur cette terre ne dure pas plus qu'un instant, pareille aux ombres de SOMATO. J'imagine alors que nous tous, comme des lanternes magiques recelant déjà en nos vies tout un condensé d'empreintes. Dès que la lanterne est allumée, ces empreintes apparaissent en images qui mettent à tourner, à danser, fugaces, dans le ciel nocturne.
Or, partout dans ce monde tant de créatures oubliées, rejetées, dans l'ombre e peuvent allumer leur lanterne : enfants, vieillards abandonnés, blessés priant sur les champs de bataille, révolutionnaires criant pour la liberté, militaires que les tueries, la drogue rendent fous, populations déplacées marchant vers leur mort, malades mis à l'écart parce qu'ils sont malades, prostitués des deux sexes abandonnés, acteurs déments, mendiants et puis, dans la nature saccagée par les bombes et par la pollution, ces animaux, ces esprits des forêts, ces divinités des mers et des montagnes, la danse du grand tambour, tous en voie de disparition...
C'est en pensant à eux tous que je veux mettre une flamme à l'intérieur de la lanterne! Je veux, du même coup, faire la lumière sur ce que ma propre mémoire cache d'obscur. Libérer la part d'ombre, se libérer de cette idée d'ombre pour danser, révéler la vraie vie, danser encore jusqu'à ce que la lumière se fasse et que toutes les lanternes soient éclairées!
SOMATO, danse, requiem, à la mémoire de tous ceux ont été repoussés et enfermés dans l'ombre.
Je regarde le ciel nocturne, la ronde des étoiles sous la voûte céleste. A l'échelle du cosmos, les étoiles elles aussi ne vivent qu'un instant . Tournant jusqu'à la mort, nos vies ne durent qu'un instant. Mais voyez comme, sous la voûte céleste, ces myriades




"走馬灯" ----- Japanese

8歳の時屋根から転落、死を一瞬意識する。落ちるまでの瞬き間に、これまでの人生の印象的な瞬間が全て思い出された。それは極彩色の人生のフラッシュバックの影絵、それは蝋燭の灯の周りを回転し明滅しつつ踊る。
それを日本人は走馬灯と謂う。
星の生命に比べ、人やこの地球上の全ての生命の一生は一瞬の瞬き、走馬灯のようだ。僕は夢想する。誰もが走馬灯であり、その生をギュッと凝結した影絵を既にもっている。その走馬灯に灯をともすと、それらは夜空に星のように明滅し踊り始める、、、。
しかし、走馬灯の灯を点す事のできぬ、この世界の中で暗部に押しやられ忘れられた生命もある。例えば、捨てられる子どもや老人、戦場で傷つき唯祈る人、自由を叫ぶ革命の人、殺戮と麻薬で狂った兵士、強制移住の先住民の死の行進、病み隔離された人、愛し捨てられる娼婦や男娼、狂った役者や乞食、火炎弾や環境破壊で、消えゆく生物や森やその精霊、消えて行く海や山の神、太古の踊り。
そんな暗部に押しやられ死に行く生命や精霊たちの走馬灯の灯を点そう。また自らの内にもある暗部に忘れられた記憶に灯を点そう。それらを暗部という概念から解き放ち、隠さぬ真の生命の発露と捉え、光にするまで踊り続ける。すると、それらの走馬灯に灯がともる、、。
その踊りとは、暗部に封印され押しやられてきた生命達への鎮魂歌である。
夜空を見る。星もまた天海を巡る走馬灯。星の命も宇宙の時間に比べ瞬きの時。僕らの人生も死に至るまでの一瞬の走馬灯。ほら、天海にそんな無数の走馬灯が踊り始める、、、。
                                            竹之内 淳志

===================
Photos of performance & workshop in January 2007-06 are available:
http://www.jinen-butoh.com/works/BUTOH%20BYO_e.html
Workshop and performance "Butoh byo" in Paris(France)
http://www.jinen-butoh.com/works/Life%20and%20Death,%20Mandala%20of%20Transmigration.html
Workshop and performance "Life and Death Mandala of the transmigration"in Paris (France)
===================




<Booking & information>

Espace Culturel Bertin Poiree
Association Culturelle Franco-Japonaise de TENRI
E-mail: ecbp@tenri-paris.com
Website : www.tenri-paris.com
Tel +33(0)1 4476 0606 / Fax +33(0)1 4476 0613
add: 8-12, rue Bertin Poiree 75001 Paris
Metro : Chatelet or Pont-Neuf