India2010Feb
< 10days residency JINEN Butoh workshop in South India / Auroville  >

Butoh Body Movement

International Workshop, 30 January - 8 February 2010 at Auroville, India
Conducted by Atsushi Takenouchi and accompanied by Hiroko Komiya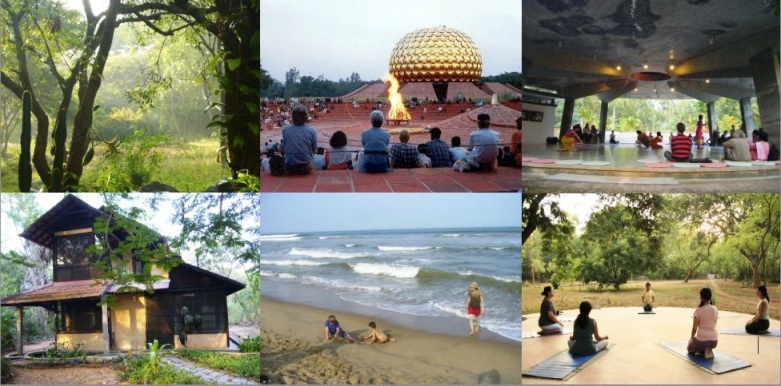 Workshop
This intensive 10 day workshop is meant for dancers, actors, performing artists, healers, body work
practitioners and others active in related fields. It will be conducted in India for the first time by
internationally renowned Butoh dancer and choreographer Atsushi Takenouchi with live percussion music by Hiroko Komiya.

The instructors invites the participants to experience an inner journey through different states of
consciousness, feelings and sensations and explore unity with others and in resonance with nature.

This is a unique workshop that takes place in Auroville, close to Pondicherry in South India.
Auroville is an international township founded in 1968 to realize the human unity and has about 2000 people from 40 different countries experimenting with sustainable living practices.

International participants together with select Aurovilian participants will work in indoor as well as
outdoor locations for about 6 hours every day and will make a public presentation on the last day. There
will also be a public solo performance by the instructors.

For more details about philosophy, previous workshops, works of instructors, please see their web site:
jinen-butoh.com

For more information on Auroville see: auroville.org and aurovilleradio.org






Participants
The number of participants is limited to a maximum of 20 people because of the size of the available
studio space. Of these, 10 places are reserved for sponsored participants from Auroville and 10 for others
from India or overseas. Though the workshop is open for all those interested, preference will be given to
those who are involved in the field of dance, theatre, performing arts, healing body work and related
areas, to former students of JINEN or to those who are familiar with Butoh techniques.

Schedule
Actual timings and venue will be adjusted by Atsushi after his assessment of the locations, participants
preferences and practical arrangements. Tentative workshop timings : 0830 ? 1230 (studio); 1430 ? 1700
(outdoors).
29 Feb Fri Arrival in Auroville
30 Jan Sat Workshop start
31 Jan Sun Full moon dance in open field
01 Feb Mon
2 Feb Tue Sun rise dance on the beach
3 Feb Wed
4 Feb Thu Nature dance
5 Feb Fri
6 Feb Sat Atsushi solo public performance (outdoor)
7 Feb Sun
8 Feb Mon Public performance (outdoor or studio)
9 Feb Tue Departure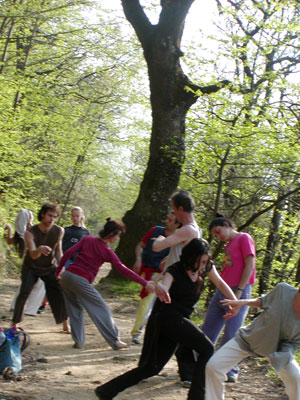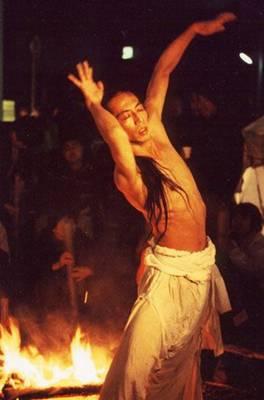 Accommodation
Auroville is spread over a large forested area and has several guest houses offering simple
accommodation. These are always fully booked during the peak months from January to March. With some
difficulty, we have reserved a few rooms for 10 people in total at different guest houses and it will be
necessary to share rooms.

Please plan your travel to arrive in Auroville on Friday, 29 January after lunch and you will need to check
out before noon on Tuesday 9 February (total stay 11 nights). It will not be possible to come earlier or
stay later in the places booked for you as they are all full already. There may be some places available in
other guest houses at last minute, but it is not certain and you can try ! Many people who wish stay
longer in Auroville leave when they cannot find any place to stay. You can consider staying in the near by
town of Pondicherry (about 6 km away) if you wish to stay longer in the area.

Costs for accommodation are maximum Rs 700 (Euro 10) per person per day on sharing basis and the
actual rate depends on the guest house you will be staying at. There are many eating places in Auroville
offering a mix of healthy international and Indian cuisine. An average cost for your breakfast, lunch and
dinner will be in total Rs 550 (Euro 8) per day. Because of the distances between places (several
kilometers of green area !), you may need a bicycle or a motorcycle/scooter for your local travel. Usually
guest houses provide bicycles for free and you can rent a motorcycle for about Rs 150 (Euro 2) a day.
In total you will need to budget Rs 1400 (Euro 20) per day to cover your expenses for stay, food and
travel.

Fee
The workshop fee for total ten days is Euro 250 and participants are required to attend all the days.
Boarding and lodging costs are extra as stated above. Please note that this is a special reduced fee for
India compared to the normal fees of the instructors for a similar workshop in Europe. This workshop is
being organized on a cost basis just to cover their expenses.

To book a place, please transfer Euro 250 through bank with any transfer charges to your account :
Amount : Euro 250 Account name : R. Kolli Account no : 33.55.94.786
Bank : Rabobank, Netherlands IBAN : NL62RABO0335594786 SWIFT(BIC) code :RABONL2U

This amount is not refundable in case you are not able to come for any reason. In case, the workshop is
cancelled for any unforeseen circumstances, then it will be refunded to you with any bank transfer
charges to your account.

Your place in the workshop will be confirmed only after receipt of payment.


Weather
It is very pleasant and sunny weather in February at Auroville with temperatures in the day around 30C
and at night around 22C. You will not need any warm clothes, but just a light sweater can be handy when
you ride at night on motorcycle. Dancing outdoors in the red soil can make your clothes dirty easily. The
guest house usually includes laundry service. Auroville is located in a traditional rural area of South India
and you need to dress modestly and sensibly in public so as not to attract unwanted attention. The same
applies for beach wear.

Reaching Auroville
The nearest airport is Chennai. Lufthansa and Jet Airways have direct flights to Chennai from Europe.
Kuwait Airways and Sri Lankan Airways usually have cheap airfares. It is a 3 hour drive by taxi (Rs 1800 =
Euro 25) to Auroville. The nearest railway station is also Chennai. Detailed information on how to reach
Auroville and your guest house will be sent at time of confirmation of your booking. Auroville can be
located on Google Earth.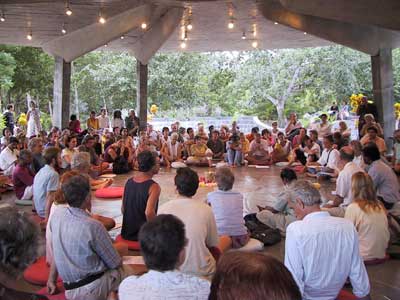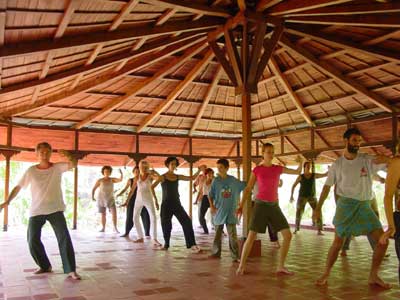 Registration
To participate in the workshop, please send a short write up (about half a page) about your background
along with contact information and a photo by email. We will let you know within a day if there is a place
available for you after which you can make the payment. Your place will be confirmed only after the
receipt of payment.

If you have any specific questions, please do not hesitate to contact:
Raghu Mobile: +91 948 848 3313 Email: butohindia@gmail.com Skype: raghu.kolli

Hope to see you in Auroville !
++++