Englis & French>>>




JINEN Butoh Intensive Winter Workshop 2015

- Apollo and Dionysos & The dance of the masks -




with Atsushi Takenouchi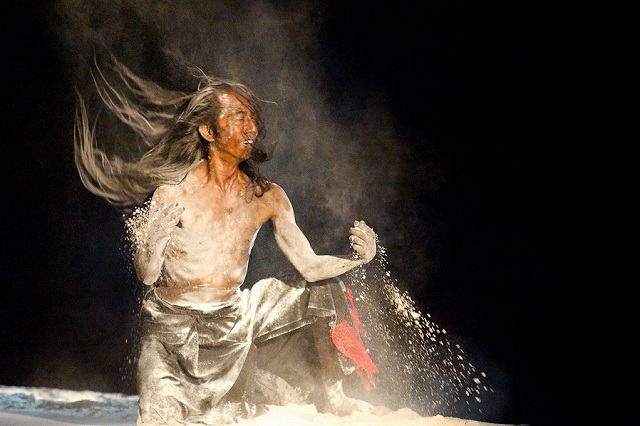 photo by Pagratis Pagratidis
DATE : January 13,14,15,16,17,19,20,21,22,23 (10 days / total 86hours)
TIME : 11:00 – 19:30
* only on January 23rd,10:30-20:00
* on January 23rd, each solo/duo presentation from 14:00 to 20:00 at EspaceCulturel Bertin Poirée.
PLACE : Espace Culturel Bertin Poirée
PRICE : 380 euros / 350 euros ( students and unemployed)
maximum parcitipants : 22 people
- Apollo and Dionysos & The dance of the masks -
During this workshop, we will study our body movements through butoh dance. We are going to do improvisation with principal butoh's basic, and we will meet « the dance of the soul ».
Then, each one will try to find his « mask dance » and finally each one will create his dance in which soul and mask will confound.
« Apollinian energy , Dionysian energy »
Ying and yang ? Light and darkness, shape and energy, Apollo and Dionysos.
Two principles which conflict and complement each other.
During the workshop we wil explore our body as breath, movement and voice, related to Apollo and Dionysos primordial energies.
Power of light, symmetry, harmony and trancendence of the Apollinian presence and power of earth, fire, ecstasy of the dionysian action shall be expressed through the body with movement and sound.
At the same time we will work on some elements of japanese mythology :
-Amaterasu, female deity, close to Apollo's sun energy
-Susano, male deity and Amanozume, female deity, both related to dionysian energy.
Thanks to those elements we will explore Apollo and Dionysos's male and female energies, as two sides of a same face.
Through Greek and Japanese's mythologies, beyond Europ and Asia, we will try to reach some archetypes of the humanity.
« Dance of masks »
In many civilisations, men used masks, in a religious way or in an artistic way (Greece, Japan, Tibet, etc.). They enable men to live many transformations and also to touch something primordial, archetypal.
Who is dancing ? Me or my mask ? Is it me who is dancing, or one of my masks ?
Each one of us hold inside a part of Apollo, a part of Dionysos. The are many masks in us. If we are deeply connected to our inside, and that our mask also is, then may be that the multiple becomes one...
At the end of the experience, if we are unified with our mask, we can take it off, dancig with or without is the same.
What will be this dance?

** Reservation is needed in advance, since the number is limited. Please contact to Espace Culturel Bertin Poirée and give your name, address, contact telephone number, e-mail address and your short introduction with physical experience (Butoh, dance, theatre, mime, or any kind of body training).

***Requisites for Participants: Previous experience in Butoh workshop required, or physical training like dance and theatre. As a general rule, the participants must be able to attend the whole period of 10 days.
•This intensive workshop is for people with experience in Butoh Workshops. In this 10 days workshop, we work on the creation of each participant 15 minutes solo and duo Butoh. A.Takenouchi will guide participants how to create solo/duo Butoh on the stage.
At same time, every day we make solo for 2-3 participants at end of workshop time.
• Participants seek the true nature of Butoh, that is to dance, be danced and keep dancing.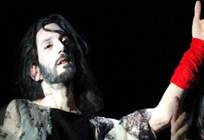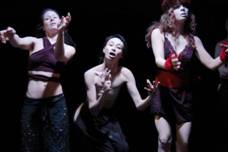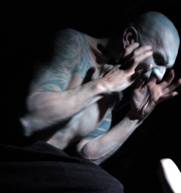 Costume : Please bring a costume and/or disguise and shoes that suit the soul you are trying to express. As in Yin Yang, we can have western and eastern, classics and moderns, extremes of various types. Please do not hesitate to bring any kind of costume or disguise. Dresses, flashy disguises and bizarre outfits are acceptable. At last presentation day,if you like to put white body paint on you. Please bring that white material by yourself.
Accomodation : We have some information for accomodation, so please ask to Espace Culturel Bertin Poiree if you need info. And Please make a reservation by yourself.
<Info & Reservation >
Espace Culturel Bertin Poirée
ASSOCIATION CULTURELLE FRANCO-JAPONAISE DE TENRI
8-12, rue Bertin Poirée 75001 Paris
Métro : Châtelet, Pont-Neuf
Tél : 01 44 76 06 06
E-mail : resa@tenri-paris.com
http://www.tenri-paris.com/
******************************************************************************************************************

French>>>>
STAGE DE BUTO JINEN A PARIS 2015
« Apollon et Dionysos et la danse des masques »
avec Atsushi TAKENOUCHI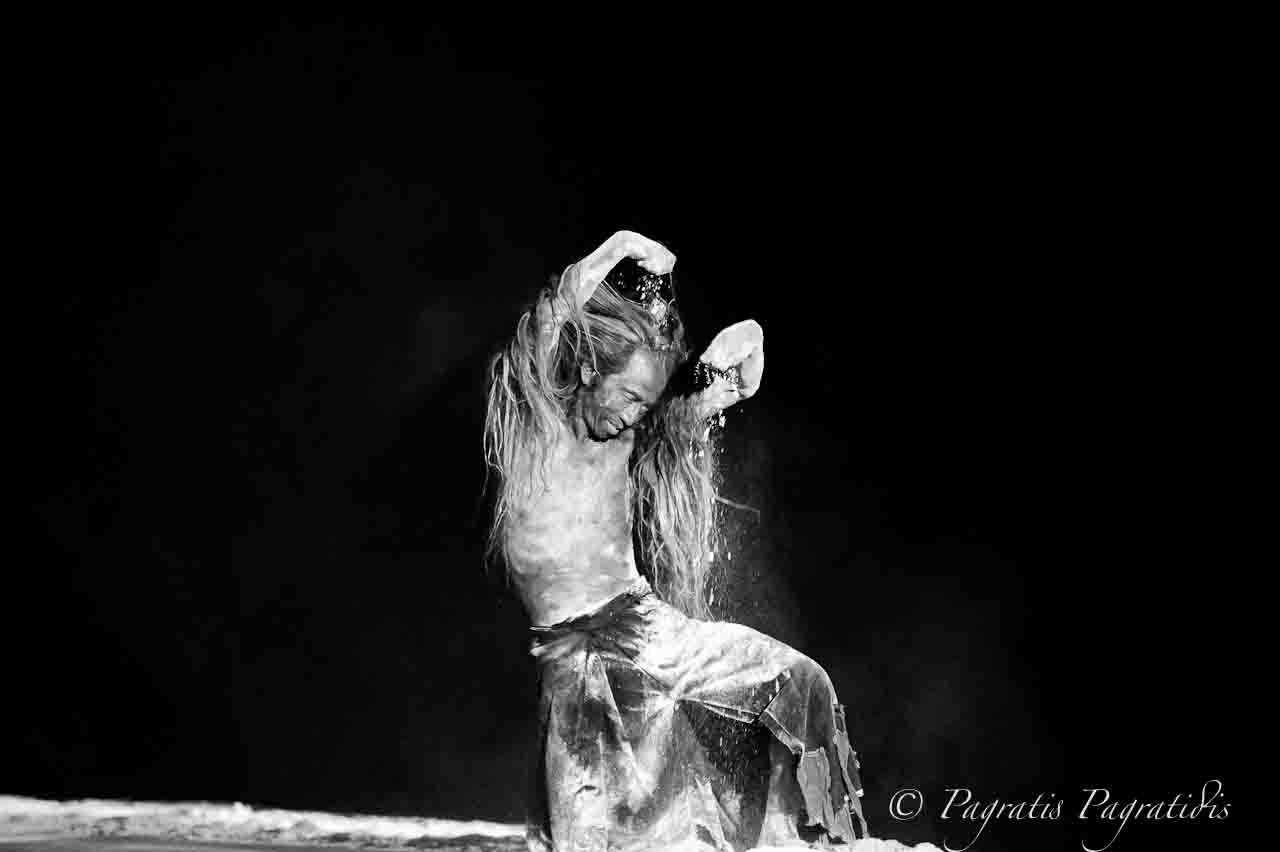 DUREE : 10 jours (86 h)
DATES et HORAIRES : Du 13 janvier au 23 janvier 2015
les 13,14 janvier 15,16,17,19,20,21 et 22 janvier De 11h à 19h30
le 23 janvier De 10h30 à 20h *
il y aura une présentation non stop de 14h à 20h à l'Espace Culturel Bertin Poirée.

TARIFS: Plein:380 euros/Réduit:350 euros
nomber de participants maximum : 22**
                    


« Apollon et Dionysos et la danse des masques »

Lors de ce stage, nous étudierons les mouvements de notre corps à travers la danse butoh. Nous travaillerons sous forme d'improvisations à partir des principales bases du butoh et nous rencontrerons « la danse de l'âme ». Puis nous chercherons à trouver chacun la danse de « notre masque », et enfin, chacun créera sa danse dans laquelle l'âme et le masque se confondent.




«Energie apollinienne, énergie dionysiaque »

Ying et yang ? Lumière et obscurité, forme et énergie, Apollon et Dionysos. Deux principes qui s'opposent et se complètent.

Pendant le stage, nous explorerons notre corps en tant que respiration, mouvement et voix, en relation avec les énergies primordiales d'Apollon et Dionysos.

La puissance de la lumière, la symétrie, l'harmonie et la transcendance de la présence apollinienne et la puissance de la terre, du feu, de l'extase de l'action dionysiaque pourront s'exprimer à la fois par le mouvement et par le son.

Dans le même temps, nous travaillerons sur certains éléments de la mythologie japonaise :

Amateratsu, divinité féminine proche de l'énergie solaire d'Apollon ;

Susano, divinité masculine, et Amanozume, divinité féminine, liés tous deux à l'énergie dionysiaque.

Grâce à ces divers éléments, nous exploreons les énergies masculines et féminines d'Apollon et de Dionysos, comme deux faces d'une même figure. A travers les mythologies grecque et japonaise, au delà de l'Europe et de l'Asie, nous essaierons d'atteindre certains archétypes de l'humanité.

« Danse des masques »

Dans beaucoup de civilisations, les hommes ont utilisé les masques, que ce soit dans le domaine sacré ou dans le domaine artistique (Grèce, Japon, Tibet, etc...). Ils permettent à la fois à l'homme de vivre des transformations, et de toucher quelque chose de l'ordre du primordial, de l'archetypal.

Qui danse ? Moi ou mon masque ? Est ce moi qui suis en train de danser ou un de mes masques ?

Chacun de nous porte en soi une part d'Apollon, une part de Dionysos. Il y a de multiples masques en nous. Si nous sommes profondément reliés à notre intérieur, et que notre masque l'est aussi, alors peut être que le multiple rejoint l'un... Au bout de l'expérience, si nous ne faisons plus qu'un avec le masque, nous pouvons l'enlever, danser avec ou sans revient alors au même...

Quelle sera cette danse ?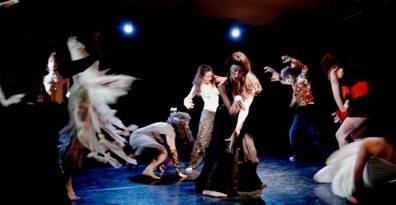 **Le stage s'adresse à des personnes qui ont déjà une certaine expérience du butô et qui s'engagent à
participer à la totalité du stage.
*** L'inscription à l'avance est nécessaire, car nombre de place est limité. Veuillez contacter à l'Espace Culturel Bertin Poirée et donner vos coordonées (nom, adresse, numéro de téléphone joignable, adress d'e-mail) et une simple déscription de votre expérience physique (butô, danse, théâtre, mime, ou n'importe quel pratique corporelle). Puis, réglez à l'avance à l'Espace Culturel Bertin Poirée afin de confirmer votre inscription.

Le dernier jour, les stagiaires réaliseront d'abord des performances
en solo ou en duo.
++Remplir le bulletin d'inscription et le rapporter(ou l'envoyer) à
l'adresse ci-dessus avec le règlement.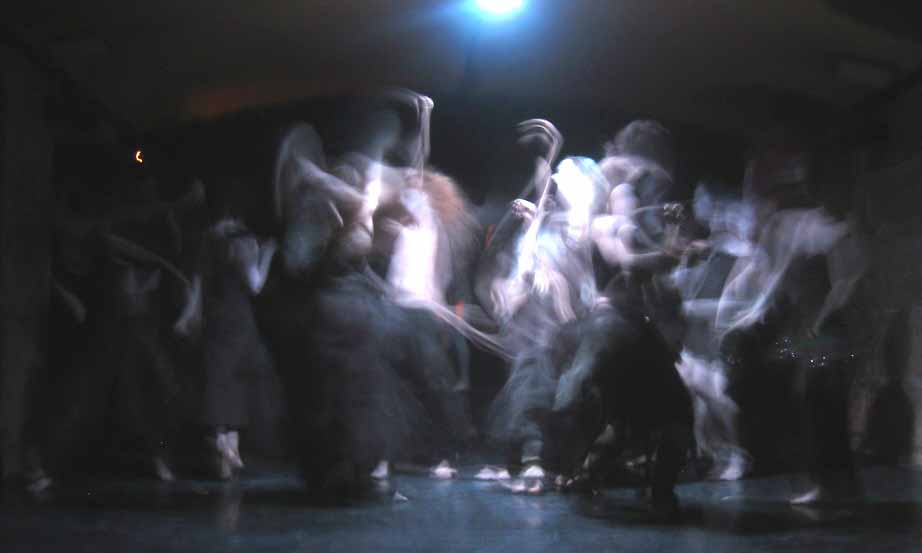 Détails pratiques : Apporter le « costume » (vêtements, coiffure,

chaussures, etc.) qui vous semble convenir au type de « vie » que vous

désirez incarner sur scène : De type oriental ou

occidental, d'époque moderne ou du passé, élégant, sobre ou criard, classique ou excentrique,etc..

tout vous est possible. La seule contrainte est le cache-sexe ou le fundoshi au cas où vous souhaitez

danser nu.








<< inscription >>

Espace Culturel Bertin Poirée

ASSOCIATION CULTURELLE FRANCO-JAPONAISE DE TENRI

8-12, rue Bertin Poirée 75001 Paris

Métro : Châtelet, Pont-Neuf

Tél : 01 44 76 06 06

E-mail : resa@tenri-paris.com

http://www.tenri-paris.com/