Autunno 2021 -
Corso settimanale all'aperto di Jinen Butoh

a Pontedera al Parco dei Salici

Jinen Butoh weekly
regular
openair class
-English below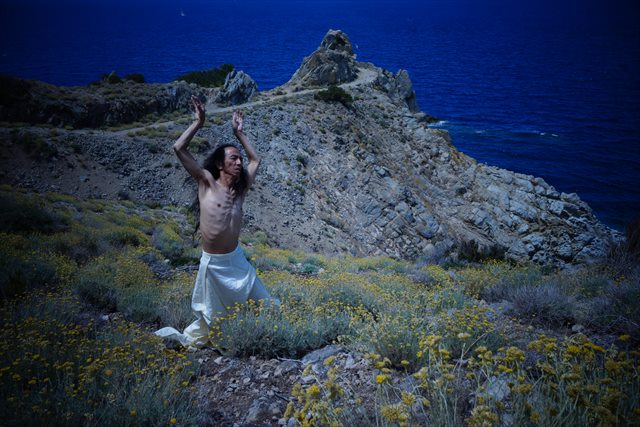 Photo:2016 Elba island by Hiroko Komiya
Corso settimanale all'aperto di Jinen Butoh
a Pontedera al Parco dei Salici
(vicino allo Spazio Nu, 8 minuti a piedi)
Date:
Ottobre: i martedì 5, 12, 19, 26 - dalle 16:00 alle 18:15.
Novembre: i martedì 2, 9, 16, 23 - dalle 15:00 alle 17:15
<Al termine di ogni corso, Atsushi danzerà un solo di 15 minuti.
Se vuoi vedere la performance di Atsushi, puoi venire alla fine del corso.
(alle 18:15 a ottobre; alle 17:15 a novembre)

* Questo corso è aperto a tutti coloro che sono interessati al movimento
del corpo e alla natura.



"Pensato per iniziare il corso regolare"


Nasciamo dalla natura e torniamo alla natura.
Ciò che è importante per noi in questa epoca.
Attraverso questo corpo, ci rendiamo conto che siamo
la stessa vita della terra, dei fiumi, degli alberi,
dei fiori e degli animali e che siamo parte della natura.
Jinen Butoh risveglia i ricordi di tutte quelle vite nei nostri corpi,
Essere profondamente consapevoli del potere della natura
dentro di noi attraverso la danza.
Per far sbocciare il fiore della nostra vita.


*Possiamo incontrarci direttamente al Parco dei Salici.

Per trovare il luogo esatto della pratica,
per favore cercare : https://goo.gl/maps/iJi4dm2VVEVd8NTi7
Si trova a 300 metri più a nord dal bar del Parco dei Salici.
*Non è necessario iscriversi.
*1 sessione costa 10 €
* Atsushi usa l'italiano semplice e qualche volta l'inglese.
*In caso di pioggia lieve il corso si terrà ugualmente al Parco.
Nell'eventualità portare una giacca impermeabile.

* Se fossero previste forti piogge, l'annullamento del corso sarà
comunicato alle 11:00 del giorno del corso sulla pagina di questo sito.

Contenuti della pratica (2 ore)


I:

Lascia che l'energia naturale di base circoli nel tuo corpo.
I movimenti di base del jinen Butoh (movimenti e forme
di venti e onde, movimenti e forme di animali e piante etc).
Allo stesso tempo, una semplice forma di yoga e ginnastica,
Noguchi (ginnastica giapponese).



Ⅱ:

Danza con l'albero e incarna la vita dell'albero
con il nostro corpo.
Danza con i fiori. Senti le 4 stagioni della vita dei fiori.
Senti la terra, facciamo ballare il respiro della terra.
Tocchiamo la vita di insetti e animali, poi i loro movimenti
e le loro forme in danze.
Danziamo con il vento e diventiamo vento.
Diventiamo una circolazione di acqua, nuvole, pioggia,
fiumi e mare.
Senti il ​​flusso dell'acqua nel nostro corpo.




"Butoh"

è nato negli anni '50 e '60. Sullo sfondo di una forte era
di libertà, riforma e liberty l'art. Butoh ha rilasciato vari movimenti
ed emozioni che sono nate dall'interno del nostro corpo e le hanno
fatte ballare. A quel tempo, Butoh è stato chiamato una rivoluzione corpo
.


"Jinen Butoh"

è iniziato collegando il butoh alla natura dentro e fuori di noi.




Organizzatore: Jinen Butoh & Spazio NU



::::::::::::::::::::::::::::::::::::::
2021 Autumn Jinen Butoh weekly
regular
openair class
in Pontedera
Date: Tuesday 5, 12, 19, 26 October
- 16:00 - 18:15.
Date: Tuesday 2, 9, 16, 23 Novembre- 15:00 - 17:15.
<After finish each course, Atsushi make 15 minutes
solo performance(18:15 October. 17:15 November).
If you like to see performance well come at end of each course time! >

* This class is open for everyone who is interested in
body movement and nature.



"Thought for starting regular course"


We are born from nature and return to nature.
What is important to us in this era.
Through this body, we realize that we are the same life as the earth,
rivers, trees, flowers and animals, and that we are a part of nature.
Jinen Butoh awakens the memories of those all lives in our bodies,
To be deeply aware of the power of nature within us through dancing.
To make the flower of our life bloom.



*At : Parco dei Salici near Spazio Nu ( 8 mins by walk )
Meeting: we can meet directly Parco dei Salici.
Exact practice point, please search :

https://goo.gl/maps/iJi4dm2VVEVd8NTi7
This is 300m further to the north direction from
the bar parco dei Salici.
* No need reservation.
* 1 session cost 10 €.
* Atsushi makes simple Italian speaking and some time English.
* Even small rain, we do in the park. Please bring rain jacket.
* If the course day is a heavy rain forecast. We will post the
cancellation information on the page of this site at 11:00 am
on the day of the course.


Practice content (2 hours)




I:

Let the basic natural energy circulate in your body.
The basic movements of jinen Butoh
(movements and shapes of winds and waves, movements and
shapes of animals and plants etc). At the same time, a simple
form of yoga and Noguchi gymnastics (Japanese gymnastics).



Ⅱ:

Dance with the tree and embody the life of the tree
with our body.
Dance with flowers. Feel the 4 seasons of flowers life.
Feel the earth, We make the breath of the earth dance.
We touch the life of insects and animals ,
then their movements and shapes into dances.
We dance with the wind and become the wind.
We becomes a circulation of water, clouds, rain, rivers,
and the sea.
Feel the flow of water in our body.




"Butoh"

was born in the 1950s and 1960s. In the background of
a strong era of freedom, reform and liberty art.
Butoh released various movements and emotions that were born
from within our body and made them dance. At that time,
Butoh was called a body revolution.


"Jinen Butoh"

. It started by connecting the butoh to the
nature inside and outside of us.



Organized by : Jinen Butoh & Spazio NU