<![if !supportLineBreakNewLine]><![endif]><![if !supportLineBreakNewLine]><![endif]><![if !supportLineBreakNewLine]><![endif]><![if !supportLineBreakNewLine]><![endif]><![if !supportLineBreakNewLine]><![endif]><![if !supportLineBreakNewLine]><![endif]><![if !supportLineBreakNewLine]><![endif]><![if !supportLineBreakNewLine]><![endif]><![if !supportLineBreakNewLine]><![endif]><![if !supportLineBreakNewLine]><![endif]><![if !supportLineBreakNewLine]><![endif]><![if !supportLineBreakNewLine]><![endif]><![if !supportLineBreakNewLine]><![endif]><![if !supportLineBreakNewLine]><![endif]><![if !supportLineBreakNewLine]><![endif]><![if !supportLineBreakNewLine]><![endif]><![if !supportLineBreakNewLine]><![endif]><![if !supportLineBreakNewLine]><![endif]><![if !supportLineBreakNewLine]><![endif]><![if !supportLineBreakNewLine]><![endif]><![if !supportLineBreakNewLine]><![endif]><![if !supportLineBreakNewLine]><![endif]>
2010


2010 DECEMBER

Poland
Dec 7-12,2010 JINEN Butoh 6days intensive workshop / Warsaw
International Master Class of JINEN BUTOH
Tuesday 7.12 - Sunday 12.12. (6 days)
Everyday 14:00 to 20:00

RECRUITMENT
The class if for everyone, who wants to fokus on searching the sources of inspiration In body and mind. The previeous experience is not a must but organizers keeps the rights to select the group towards physical capacity to the effort.

Contact:Format Zero
formatzero.format@gmail.com
more infor>>>http://formatzero.blogspot.com/
more info>>>







2010 NOVEMBER
Spain
JINEN Butoh solo performance & workshop in Butoh Festival / Barcelona
Nov 10-13, 2010 4days JINEN Butoh workshop
at Centro civico "la Barceloneta"
"Breath" Breath is essential for all the lives. The earth is also breathing through hundreds millions year. We can find many different breath in this world. Breath of animals. Breath of stones. Breath of lights... In this workshop, we use breath which is a starting point for all existence as a theme.
contact & reservation : cursos@barcelonaenbutoh.com

Nov 14 Sunday, 2010 Atsushi Takenouchi solo Butoh performance
At Convent de Sant Agusti start :19.00h
Butoh Dance : Atsushi TAKENOUCHI
Live music : Hiroko Komiya.......voice and object sound;stone, water, metal ball, etc
" SKIN "
Does my skin separate me from the external world ?
Magma, underground bedrock, surface soil,
the atmosphere, the magnetosphere - the layers of the earth.
Membrane of cells, internal organs, muscles, bones, and the body…
a wave of emotion, a layer of energy… aura - the inner and outer layer of our body.
Perhaps there is no boundary between me and my environment.
There is only the sensation from the many layers of skin.
The life of the moment, the dance begins with this layered sensation.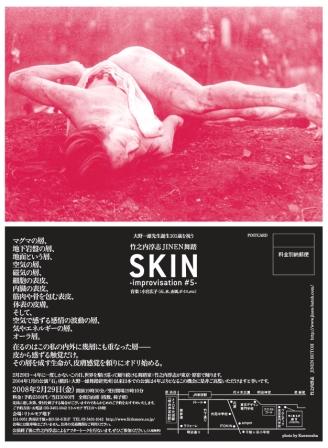 more info>>>
http://www.barcelonaenbutoh.com/



Poland
Nov26 - Dec13 ,2010 JINEN Butoh Poland tour in Krakow, Warsaw
,etc.
Nov 26,Solo JINEN Butoh performance "KAKELA" /Krakow

at Manggha -Centre of Japanese Art & Technology
Live music : Hiroko Komiya.......voice and object sound;stone, water, metal ball, etc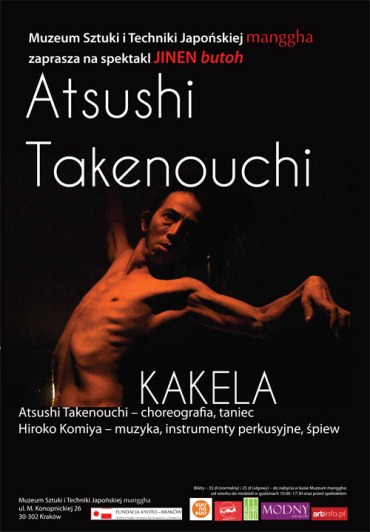 Photo Georges Karam

"Kakela"

I am just a fragment. Who knows where this fragment comes from.
What am I ? With this question humans travel through life.
Why go so many places? Why tirelessly keep going until death? Why always look for new people, new experiences…?
Because I want to know…. what I am. I wanted to understand…. very deeply.
Before becoming a fragment, you and me were one ?
Before becoming a fragment, sky and me were one ?
Before becoming a fragment, sea and me were one ?
Awakened people said to me,
Do not search outside, look in. Truth is inside of you.
That's why I put a ladder inside to go in myself one step at a time.
This is the beginning of butoh.
But I keep on dancing, that means I meet new people, I have new experience
Even though awakened people said sit still and look inside.
I really want to meet you, I want to meet sea, I want to meet sky, I want to meet light.
…May be I just wanted to know what am I.
But this dire need to meet new people, new things.
I am a fragment, not perfect, a broken piece.
I'm a dreamer of life that's why this need to meet.
2010 OCTOBER

UK
Oct 7-10,2010
4days JINEN Butoh intensive workshop / London
"Breath"Breath is essential for all the lives. The earth is also breathing through hundreds millions year. We can find many different breath in this world. Breath of animals. Breath of stones. Breath of lights... In this workshop, we use breath which is a starting point for all existence as a theme.


at Chisenhale Dance Space, 64- 84 Chisenhale Road, E3

more info>>>http://www.rotiebutoh.com/rotiebutoh.com/butoh_uk_calendar_2010.html
bookings: butohuk@googlemail.com


Italy
Oct 15-16-17, 2010
JINEN Butoh workshop in Pontedera/ Italy
Explore the fundamental connection of " voice and body"
voice, singing, language, created by the movements of the body.
-Explore the voice before language, before singing.
-The voice becomes your prayer, your lullaby, your requiem, your song ritual.
-The language is formed through communication between body and voice .. this is the oldest dance.
we will explore how express emotions through voice and body without words.
This is the beginning of butoh dance.

Workshop sulla voce e sul movimento"Jinen butoh"
La voce, il canto, il linguaggio, nascono dai movimenti del corpo.
Il lavoro:
-esplorare la voce prima del linguaggio, prima del canto.
-la voce diventa la tua preghiera, la tua ninna nanna, il tuo requiem, la tua canzone rituale.
-il linguaggio si forma attraverso la comunicazione tra corpo e voce..
questa e la danza piu antica.
esploreremo senza parole come si esprimono le emozioni attraverso la voce e il corpo: l'origine della danza butoh.

more info>>>http://www.spazionu.com/?p=5

<contact & booking >
SPAZIO NU - DANCE & MOVEMENT
Spazio NU -via Firenze 42/A - 56025 Pontedera (PI)
tel. +39 0587 54 634, +39 329.09.08.119, +39 349.13.71.631
email: spazionu@gmail.com (information and registration workshops), info@spazionu.com
http://www.spazionu.com





Lebanon
Oct 24, 2010
Solo JINEN Butoh performance "KI-ZA-MU" / Beirut
start 20:30 at the Sunflower theater:Tayouneh Roundabout Beirut, Lebanon
"KI-ZA-MU"
" When I was a baby, I was unable to stand. Unstable and uncertain. It was the 4th step my memory made, that carved into my body.
When I was a child, I got lost in... between death and life due to a strong asthma spasm. It was the 15th step my memory made, that carved into my body.
When I danced with mentally and physically disabled people, I felt that a handicap was no more a handicap. It was the 53rd step my memory made, that carved into my body.
When I danced Butoh in various places, lands, countries, I felt that all kinds of life forms were dancing with me. It was the 185th step my memory made, that carved into my body.
With all these memories, my body is now stepping forward.
In this performance, I will be carving a new step... "
Atsushi Takenouchi
For bookings: 01-381290


Contact:georges.karam@gmail.com

Oct 25-26, 2010
JINEN Butoh workshop / Beirut
at the Sunflower theater:

Tayouneh Roundabout Beirut, Lebanon

contact: Zoukak:

info@zoukak.org






2010 SEPTEMBER
Greece
Sep 2, 2010 Contemporary Dance

Group"Syn+Ergasia"performance

/ Athens

dance:Syn+Ergasia
Emilia
Bouriti
& Atsushi
Takenouchi
Sep 4-5 , 2010
2 days intensive butoh seminar Atsushi Takenouchi
"Butoh dance and space"a body dialogue through the exploration of space
Life was born from the earth and, originally, human
danced on this very ground of this earth. It is
important to find out and to be conscious οf our
body as a part of this huge circulation.


at:STUDIO 32 Nileos, Thisio, metro Monastiraki.
more info>>>English
more info>>>
Greece
<

Contact&Booking

>

Emilia Bouriti "syn+ergasia dance
theatre company"
τ η λ . 6 9 3 8 7 0 7 7 0 6
email:
ebouriti@yahoo.gr
Holland
JINEN butoh 3days workshop / Holland
September 6 ,7 and 8, 2010
time 10.00 to 16.00
*This three-day workshop is for anyone who wants to participate, or a background in dance training is not necessary.

Work in progress' I breathe in the world '
September 9 and 10, 2010
time 10.00 to 17.00
This Butoh workshop is linked to the performance, ' I breathe in the world " (by Dutch company Fields of Wonder and in
collaboration with Atsushi Takenouchi ), that will premiere after the workshop .
Participants receive workshop days, then there is the creative process of making performance.
A selection of the participants will also be invited to participate in a presentation as a performer , after
these day rehearsed . Part of the show will fill Atsushi self -reactive on the scenography by stage designer
Geert van der Velden.
Contact
:
info@fieldsofwonder.nl
Phone Geert van der Velden +31(0)6 4834 1780
more info>>>
:
http://www.fieldsofwonder.nl/projecten/2010/butoh_workshop
( in Dutch)
Holland
"I breathe the world " collaboration performance with Fields of Wonder / Delft
September 10 , 2010 , Fri , 20.00
September 11 , 2010, Sat 13.00 / 16.00 / 20.00
September 12 , 2010 , Sun 13.00 / 16.00

A unique prsentation of 'air' as a theme in the broadest sense .
"I breathe the world " shows a wonderful mix of seeing Japanese Butoh dance , modern dance ,
installations and live music.
The monumental Glue & Culture , founded in 1885 as Glue and Gelatin Factory located
at the Schie , provides the backdrop for this performance .

France

Sep 25 - Oct 1, 2010 , 7days


Intensive

natureside

residency

Butoh

workshop in the Pyrenees /South France


Last day is each solo presentation in nature



meeting on the 25th Sep morning , departure day on the 2nd Oct morning
-dance in the field, forest, mountain, dance in the cave, dance with flower, sunrise session,
night session, animal dance,,,
-last day is each solo improvisation in the nature of the Pyrenees
-meals are organic vegetarian meals prepared together

more info>>>French
contact & booking

Nicolas RAYNAUD

tel

:+33 (0)6 09 17 08 56
e-mail: nicotrace@gmail.com




2010 AUGUST

France
August 3 - 8, 2010
JINEN Butoh 6days intensive Summer workshop / Avignon



This workshop is for dancer, actors, performers and people who has experience
in body training.
at : Studio "Avignon Temps Danse", avenue des Sources, 1 impasse Massena, 84000 Avignon.
-last day will be openair presentation of each participant solo improvisaiton
at (www.domaine-escarvaillac.fr/)
-one night event : Atsushi Takenouchi short solo butoh and photo/video night
at the Avignon European Center of Poetry
-workshop will be accompanied with live music by Hiroko Komiya

more info >>>French

contact & booking
Emmanuel Sandorfi, tel:+33(0)6 71 60 96 55, email: a.dit@free.fr
Organised by la Cie Autrement Dit, 3 bld des Lices, 13200 Arles - www.cie-autrementdit.com




Italy
August 23-29,2010

JINEN Butoh 7 days Summer Natureside

residency workshop in Bari / South Italy
"Connection between JINEN and body and yourself "
arrival day:22 Aug , departure day: 30 Aug morning


Last day is each solo & group impro presentation site specific in the nature



This intensive 7days workshop is meant for dancers, actors, performing artists, body work practitioners and others active in related fields.
-workshop will be mainly at natureside and also in the studio.
-one day sunrise session, dance with tree, olive tree forest, fields, dance on the beach and in the wave,
dance with star and moon, movement and voice, etc
- residency at La Luna Nel Pozzo (www.la-luna-nel-pozzo.com/index-uk.htm)
- meals are Apulian organic cooking
*maximum 20 persons. reservation is needed since the place is limited.


moreinfo English&Italian >>>

<contact & booking >


Germana

and Franco +39 348 66 44 073 ; +39 348 8629254

info@casinasettarte.org
, www.casinasettarte.org

=========================================================
Photos of workshop in Summer JINEN

Butoh

Bari workshop are available:


http://www.millenary-euphoria.net/works/Jpuglia2005.html
=========================================================


2010 JULY

Italy
1 july, 2010
tribute to Kazuo Ohno,JINEN Butoh solo performance


--Tribute to Kazuo OHNO ---

In 2004, I perfomed my solo piece "STONE"at Kazuo Ohno Dance Studio in front of him. During my dance, we heard the voice saying " Please push my back,

I want to stand, and dance." It was the words of him on the wheerchair. I love to dedicate "Stone" for him.

Atsushi Takenouchi

"Stone" - I am a stone, just a fragment of the cosmos. -
butoh:Atsushi Takenouchi
music: Hiroko Komiya ( stone, water, sea shell, metal balls, percussion, voice )
Teatro Era in Pontedera (Pisa) http://www.pontederateatro.it/
At 21:00

A stone took a long, long time to form. Born from the earth, a stone holds the plants seeds,
small creatures and the carcasses of animals. Taking root,
a tree grows large taking nourishment from the sunshine and the earth.
Just a single stone can be proof that everything in this world is linked.
I dance the past and the future of this small stone's life.

more info>>>http://www.pontederateatro.it/PT/Default.aspx , http://www.spazionu.com/?p=544


Italy
July 5-31, 2010
Summer 4weeks Intensive JINEN Butoh workshop & long performance in Pontedera/ Italy
140 hours of intensive butoh workshop and long performance in Pontedera ( Pisa )
conducted by Atsushi Takenouchi



 Any small life has own life time.
The butterfly life has birth and death in the short arch of time.
26nights and 26days is their whole life or one measure.
As the butterfly feels whole life in 4weeks, we explore how deep we feel our own life and presence through this 4weeks.
And at the same time, we explore how we express it on the stage through this 4weeks Butoh workshop.



* we devide 4weeks into 4 themes.
- Life circulation, transformation.
- Feel ourself as part of nature. Meet the nature where our body come from.
- Discover beautiful movements and dance in the weakness, flagility, sickness.
- Stand still with your all presence, and dance your life in front of audience.

* long performance
On July 31st, as the final presentation, we will have long performance day with each participants solo or duo in studio,
and group improvisation, butoh procession in the city of pontedera. Like park in Pontedera, street in the town, square of station,
riverside with sunset, etc.
*Please bring any costume as you prefer, and the shoes which you can dance with. ( white painting, etc.. )

*Max participants: 20.
* This workshop is ment for dancers, actors, performers and person who has physical training back ground.
It is desirable to have Butoh dance/ workshop experience in the past, since it is intensive 4weeks workshop.

*Date and time : 5th-31th July 2010, from Monday to Friday, 7 hours per day
*At : workshop will be held mainly inside studio of Spatio NU. and natureside (on 2nd week), and site specific location occasionally.
*Everyday at the end of class, there will be solo improvisation .
*Some Friday, we will make site specific butoh dance in various location in Toscana.
*Every weekend on Saturday, participants can bring her/his own solo work.
*From the third week, the workshop will be accompanied by live music by Hiroko Komiya.
*Participants must send her/his curriculum vitae with a description of her/his motivation to join in this workshop.
*Accomodation will be arranged by Spatio NU, the detailed info will be announced when you contact.


<contact & booking >
SPAZIO NU - DANCE & MOVEMENT
Spazio NU -via Firenze 42/A - 56025 Pontedera (PI)
tel. +39 0587 54 634, +39 329.09.08.119, +39 349.13.71.631
email: spazionu@gmail.com (information and registration workshops), info@spazionu.com
http://www.spazionu.com
more info >>>Italian&english http://www.spazionu.com/?p=14

==================================================================
Photos of workshop in Summer JINEN Butoh Pontedera workshop 2008 are available:
http://www.millenary-euphoria.net/works/Jpontedera2008aug.html
http://picasaweb.google.com/pontedera.ws
==================================================================






2010 JUNE

France
Jun 22-23, 2010
solo Butoh performance at Bertin Poiree in Paris Butoh festival 2010 / Paris

--Tribute to Kazuo OHNO ---

In 2004, I perfomed my solo piece "STONE"at Kazuo Ohno Dance Studio in front of him. During my dance, we heard the voice saying " Please push my back,

I want to stand, and dance." It was the words of him on the wheerchair. I love to dedicate "MI-HITOTSU" for him.

Atsushi Takenouchi
Atsushi Takenouchi solo JINEN Butoh "Mi-Hitotus 身ひとつ"


butoh: Atsushi Takenouchi

music: Hiroko Komiya.......voice and object sound; stone, water, metal ball, etc
Antoine Letellier .....guitar, wind instrument,



Merci a toi Rimbaud, toi le voyant de tous les delires ? folie, chaos, beaute ! Reconnaissance a toi qui as implante en moi, dans le subconscient de mes seize ans, le don d'etre pret a tout risquer a la vie, a la mort ≪ rien qu'avec son corps ≫.
RIEN QU'AVEC LE CORPS, cette injonction qui n'a cesse de nourrir ma vie et ma danse jusqu'ici ? j'approche des cinquante ans ? , j'aimerais la danser pour toi aujourd'hui sur cette scene qui, en quelque sorte, est un precipite de vie ou mon ame dansera en poursuivant la tienne…
L'an dernier, a l'occasion d'un retour au Japon, j'ai retrouve chez moi, au fond d'une vieille boite, un recueil de poemes de Rimbaud ? incluant Le Bateau ivre - que je devorais du temps de mes seize ans. Rimbaud, le voyant de tous les delires ? folie, chaos, beaute -, fut celui qui un jour dit adieu a la poesie pour se lancer a l'aventure, seul avec son corps dans des contrees lointaines, celui dont la vie devait s'achever a trente-sept ans !
A la vue de ce recueil qui m'etait completement sorti de l'esprit , j'ai aussitot ete ramene a mon passe, a toute la memoire de cette epoque-la de ma rencontre avec la danse buto qui me semblait etre justement une ≪ mise en corps ≫ alchimique des memes delires de folie, chaos et beaute…
Des lors et ce pendant vingt ans, j'ai danse des centaines de fois au Japon, executant mes improvisations Jinen en pleine nature ou sur des ruines, dans des temples ou des sanctuaires, des ecoles ou des institutions pour handicapes , en tout dans 600 lieux divers.. . Et puis, a l'age de trente-sept ans, j'ai tout arrete pour prendre le large, m'aventurer vers d'autres rives et c'est ainsi que je me suis mis a danser en France et en Europe notamment. En y repensant a present, trente-sept ans prend une resonance singuliere : c'est a cet age que Rimbaud est ampute de sa jambe droite et meurt peu apres a Marseille, a cet age aussi que je debarque pour la premiere fois dans cette Europe qui l'a vu naitre !
Si la figure emblematique de Rimbaud ne s'etait pas trouvee profondement enfouie dans mon subconscient, qui sait si, faible et asthmatique comme je l'etais alors, j'aurais eu la force de quitter le Japon ≪ seul avec mon corps ≫ pour courir l'aventure hasardeuse de la danse buto sur des terres inconnues !
Le fait que Rimbaud ait soudain cesse d'ecrire pour devenir un aventurier errant au Moyen Orient et en Afrique a suscite bien des legendes. Quant a moi, je me dis que peut-etre il a choisi de faire de la vie reelle un ≪ corps- poeme ≫ , peut-etre choisi de danser sur la scene du reel de tout son corps quitte a en perdre une jambe, jusqu'au bout, quitte a en perdre la vie ...
Etre pret a tout risquer rien qu'avec son corps, comme l'a fait Rimbaud, n'est-ce pas cela justement le buto ?


<info & booking>
Espace

Culturel

Bertin

Poiree


Tel +33(0)1 4476 0606, ecbp@tenri-paris.com, http://www.tenri-paris.com/
8-12, rue

Bertin

Poiree

75001 Paris ( Metro/

Chatelet

or Pont-

Neuf

)





2010 MAY

France
May 7, 2010
Jinen Butoh Group Spectacle "Sou Ma Toh- Lanterne magique- " / Millau
start :8:30PM, at "La Fabrick"
Une choregraphie de Atsushi Takenouchi
Musique: Hiroko Komyia, Nicolas Moulin
Danseurs: Annie Lam, Sebastien Badachaoui, Stephanie Lemonnier, Francis
Farizon, Corinne Bodu, Nicolas Raynaud, Camille Giraud, Claire Bonniot, Atsushi Takenouchi.
Production: Cie La Manivelle

"La Fabrick":9 Rue du la saunerie 12100 Millau
Reservation Conseillee au 06 85 12 99 53

Contact : Cie La manivelle
Francis Farizon , francis.farizon@free.fr
more info>>>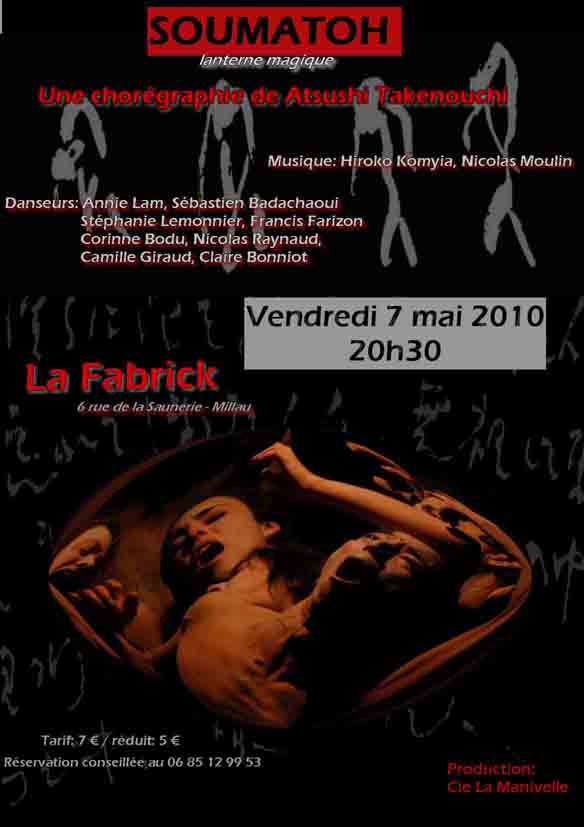 France
May 12-16,2010
5days intensive JINEN Butoh workshop at CCAM / Nancy
time: 10h00 a 17h00
at: Centre Culturel Andre Malraux
Scene Nationale de Vandoeuvre-Les-Nancy
more info>>>http://www.centremalraux.com/ Click to Formations

Atsushi Takenouchi solo JINEN Butoh performance music Hiroko Komiya at CCAM / Nancy

< contact & booking >
CCAM tel : +33 03 83 56 15 00 ccam@centremalraux.com
detailed info look >>> http://www.centremalraux.com/




2010 APRIL

France
APRIL 20- 24 ,2010
JINEN Butoh 5day intensive spring workshop / Toulouse
STAGE DANSE BUTO par Atsushi TAKENOUCHI et Hiroko KOMIYA ( Musique )
20 Avril 10h30 - 18h, 21 Avril 10h30 - 18h,22 Avril 10h30 - 18h, 23 Avril 10h30 - 18h, 24 Avril 10h - 15h,
more info>>>
Contact : Le Citron bleu
18, rue des Paradoux 31000 Toulouse
Reservation et Renseignements : 05.62.17.54.06 infos@lecitronbleu.fr,Hata@lecitronbleu.fr


APRIL 24 ,2010
Atsushi Takenouchi solo JINEN Butoh improvisation "SKIN" / Toulouse
Spectacle DANSE BUTO "SKIN" avec Atsushi TAKENOUCHI et Hiroko KOMIYA(musique)
more info>>>

Contact : Le Citron bleu
18, rue des Paradoux 31000 Toulouse
Reservation et Renseignements : 05.62.17.54.06 infos@lecitronbleu.fr,Hata@lecitronbleu.fr




France
April & May 2010
Group performance "Sou Ma Toh- Lanterne magique- " group creation and performance / Millau
"Sou Ma Toh " - Lanterne magique-
choreographed by Atsushi Takenouchi
*participants of this performance is already fixed.
detailed info is coming soon

Contact : Cie La manivelle
Francis Farizon , francis.farizon@free.fr




2010 MARCH

Japan
March 12,13,14, 2010
Atsushi Takenouchi JINEN Butoh solo performance in Tokyo
"MI-HITOTSU - 身ひとつ" homage for Arthur Rimbaud
butoh : Atsushi Takenouchi
live music : Hiroko Komiya.......voice and object sound; stone, water, metal ball, etc
Antoine Letellier .....guitar, wind instrument,
start:19:30 open:19:10
at performance gallery LITTLEMORE CHIKA
*All free seating, but reservation is recommended.
*Every time after the performance, the after party will be held.
more info>>>

<info & ticket booking >
LITTLEMORE CHIKA
add:3-56-6 Sendagaya,Shibuya-ku, Tokyo 151-0051 Japan
tel: +81-(0)3-3401-1042, +81-(0)3-5474-9588
fax: +81-3401-1052
http://www.littlemore.co.jp/chika/

<access>
Go out JR Harajuku Station Takeshita and soon turn left and go straight along the rail track
toward Yoyogi/ Shinjuku direction for 7-8 min.
The venue is on the first basement of the 3 story building with the white tiles.
http://www.littlemore.co.jp/chikaenglish/
http://www.littlemore.co.jp/chikaenglish/map/



2010 FEBRUARY

India
Jan30-Feb8, 2010
JINEN Butoh 10days workshop / Auroville, South India
workshop inside studio and natureside
Last day is workshop group presentation in front of audience
* arrive one day before/ leave one day after
WS at Auroville, inside studio, outdoor and natureside,
-one day sunrise on beach, dance with tree, in forest, field with Banyan tree,
in the brown barren canyons, dance with moon, star, etc
-Last day is workshop group presentation in front of audience
- Accomodation at guest house including 3 meals organic
- WS is for Aurovillian and open for International participants, who has experience in
physycal training like dance, theatre, etc.
- Auroville person max 15people , International participants max 10people
more info>>>

*Reservation is needed since the place is limited.
Contact and Reservation :
Raghu
email: butohindia@gmail.com
tel : +91 94 8848 3313
auroville web : http://auroville.org/


Feb 6, 2010
JINEN Butoh solo performance" Stone" at Bhrat Nivas Auditorium / Auroville
botoh: Atsushi Takenouchi
live music: Hiroko Komiya (objects sound, voice)

Feb 10,2010
Solo butoh improvisation performance"JINEN"
at Sri Aurobindo international center of ducation/ Pondicherry

Contact and Reservation :
Raghu
email: butohindia@gmail.com
auroville web : http://auroville.org/



Feb 12-15,2010
JINEN Butoh 4days workshop at Cultural Spaces Chandralekha / Channai, South India
moreinfo>>>

Feb 15
Solo butoh improvisation performance"JINEN" at Cultural Spaces Chandralekha / Channai

Contact: Mr. Logesvaran Devan
mridrum@gmail.com URL: http://www.prakritifoundation.com





2010 JANUARY

France
Jan 5-15, 2010
JINEN Butoh 10days intensive winter workshop for creating solo and duo / Paris
*There will be inside room & open-air presentation in the last with live music.
at Espace Culturel Bertin Poiree
more info>>>

Jan 16, 2010
soloJINEN Butoh performance " HANE NO KI - 羽根の樹" / Paris
butoh : Atsushi Takenouchi
live music by Hiroko Komiya and Nicolas Moulin
at Espace Culturel Bertin Poiree
more info>>>
<info & booking>
Espace Culturel Bertin Poiree
Tel +33(0)1 4476 0606, ecbp@tenri-paris.com, http://www.tenri-paris.com/
8-12, rue Bertin Poiree 75001 Paris ( Metro/ Chatelet or Pont-Neuf)







France
Jan 23, 2010
"8SEASONS" collboration performance with company Mobilis-Immobilis / Chaville(

Ile-de-France

)
Art direction/ vidual art/ scenographe : Maflohe Passedouet
Choreograph/ dance : Atsushi Takenouchi
Live music : Hiroko Komiya
Electric music : Ramuntcho Matta
Light: Nadim Deaibes
Interactive projection program: Cedric Plessiet
Assistant Plasticien : Jean-Marc Bourgeois
Compagnie Mobilis-Immobilis contact : mobilis_immobilis@yahoo.fr

ATRIUM DE CHAVILLE
3, PARVIS ROBERT SCHUMAN 92370 CHAVILLE ℡ 01 47 09 70 70 atriumdechaville@atriumdechaville.fr

more info >>> http://www.mobilisimmobilis.com/mobilis.html
http://www.mobilisimmobilis.com/communique-de-presse_8_SEASONS_%20chaville2010.pdf
http://www.mobilisimmobilis.com/8seasons.html